A Night of Music & Art for Japan Relief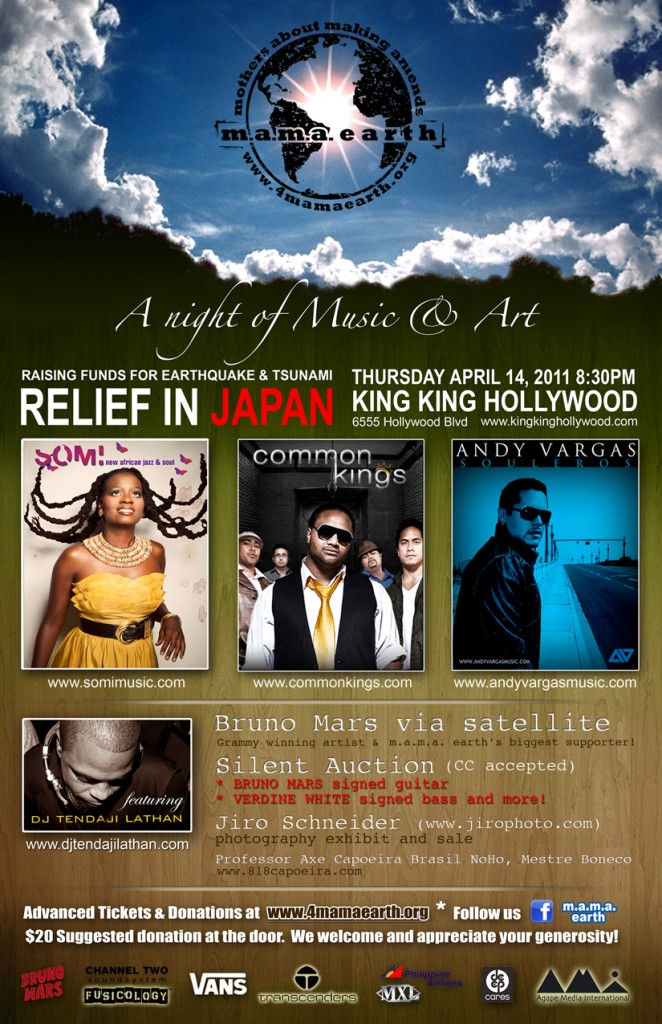 m.a.m.a. e a r t h is building a reputation for featuring both up and coming talent (think Grammy award winning Bruno Mars and Far East Movement) along with established legends in the music industry (think El Debarge and in April, Andy Vargas, lead singer of Santana).  Leading up to Bruno Mars' meteoric rise to international success, he has performed at each and every m.a.m.a. e a r t h event thus far.  This time, he'll be there in spirit and via live telecast from the Australian leg of his world tour and donate an autographed guitar for auction.
m.a.m.a. e a r t h's previous events have brought out the likes of Leonardo DiCaprio and many other famous faces. This time, they're using their keen ear for the next big thing in the music industry as they feature the infectious sound of the soul/funk band Common Kings, and jazz singer Somi, hailed "superb" by Vogue and "all elegance and awe" by Billboard. The show will feature a powerful Brazilian capoeira performance, A-list celebrity DJ Tendaji Lathan and exhibition of photography by Jiro Schneider and so much more!
The event takes place on April 14th at King King in Hollywood, a nightspot that's been called "Los Angeles Best Kept Secret." Come enjoy the show, get inspired and have some fun, all while helping the most vulnerable victims of the devastating earthquake  and tsunami in Japan.