Leeds mum creating community with henna
Our heartfelt gratitude for the enthusiasm and support from Noreen Akhtar in Leeds, UK.  Check out her story & her beautiful contribution to m.a.m.a. e a r t h's vision.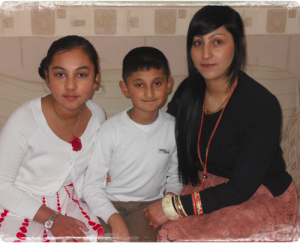 My name is Noreen Akhtar.  I'm 30 years old and a full time mum of two, my daughter 11 and my son 8. As they both are growing up, I've more time to spare and would love to be a part of m.a.m.a. earth.  I'm from the UK living in a city called Leeds.  I'm very interested in helping with the m.a.m.a.earth charity.  "I believe I've been given a purpose.  My intention is to provide inspiring opportunities for others and experience how it feels to make a difference, while raising awareness on issues we all face."  I'm up for the challenge.
I wanted to inform you of a charitable fundraising event I hosted.
As it was my first time doing a charity event, I decided to have the event at home.  I made invitations to send out to family and friends.  This gathering was for the girls and ladies to come and get a henna tattoo for a small donation.  As I like to do henna tattoos, I thought it would be a good idea to do it at the event. I decorated the room in a way that would make my guests feel comfortable and relaxed.
The event included refreshments, drinks and most of all, a chance for all the girls and ladies to have a fun, girly evening in.
With the weather here being cold and the day's getting shorter and darker, everybody tends to stay indoors after school and work.  I felt this would be a good opportunity for everyone to get together and socialize.
I thanked my guests for arriving and began with the henna I prepared a few hours prior.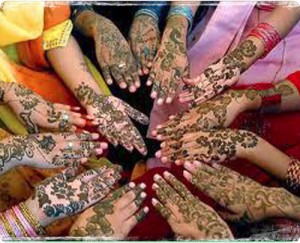 1)What is henna?
Henna is grown in some of the hottest and driest places in the world.  The leaves from the bush produce a red dye. The leaves are collected, dried and grounded into a fine powder.  The powder is then mixed with plain water into a paste.
2)How is it applied?
Making sure the skin is clean and ready to have the paste applied, I use a cone to carefully squeeze the paste into designs.  The process is similar to decorating a cake with icing.
3)Where can it be applied?
Henna can be applied to the palms of the hands or the soles of the feet.  The next best place would be the tops of the hands and feet, also shoulders, hips, back and neck.
4)How long does it last?
Henna can last anywhere from 5 to 8 days.
I hope I've answered some of the questions you might of wanted to ask about henna.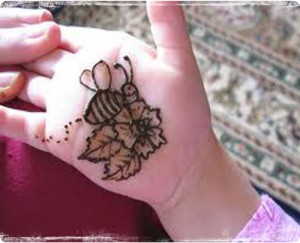 Everybody enjoyed the event very much, I got a lot of positive feedback from the guests.
Aliyah, "I've never been to an event like this and I really enjoyed it."
Sarah, "I felt safe and most of all my parents were happy giving me permission to go where they also knew I was safe and off the streets."
Raisha, "I loved it so much and can't wait for the next event, I hope for it to be soon."
I'm very proud of myself as I've never done any charity work before.  I never knew it would change me more as a person, it was hard work getting the event together and informing people but once I got the feedback from the guests and them wanting to know when the next event will be, it makes me feel very overwhelmed, proud and more positive that I'm making a change however big or small.  I have managed to raise £120.00 towards the 4mama earth charity.
I will hopefully be planning to hold a future event in order to raise awareness and raise money.
I hope my first fundraising donations really help.
Kind regards,
Noreen Ahktar